In other articles of this blog we have talked about Tarot as an effective tool in many cases to know more clearly or precisely some questions implicit in situations that disturb us in our lives. But there are alternatives such as Tarot YES or NO, which are economical and equally effective in predicting or recognizing some of these issues. It is the case of Interactive Tarot. It is an alternative strategy to the conventional Tarot that can be used by people from the comfort of home. It is a mixture of magic and advanced technology that allows you to make Tarot runs from a web page or even check it from a YouTube video or other video sites.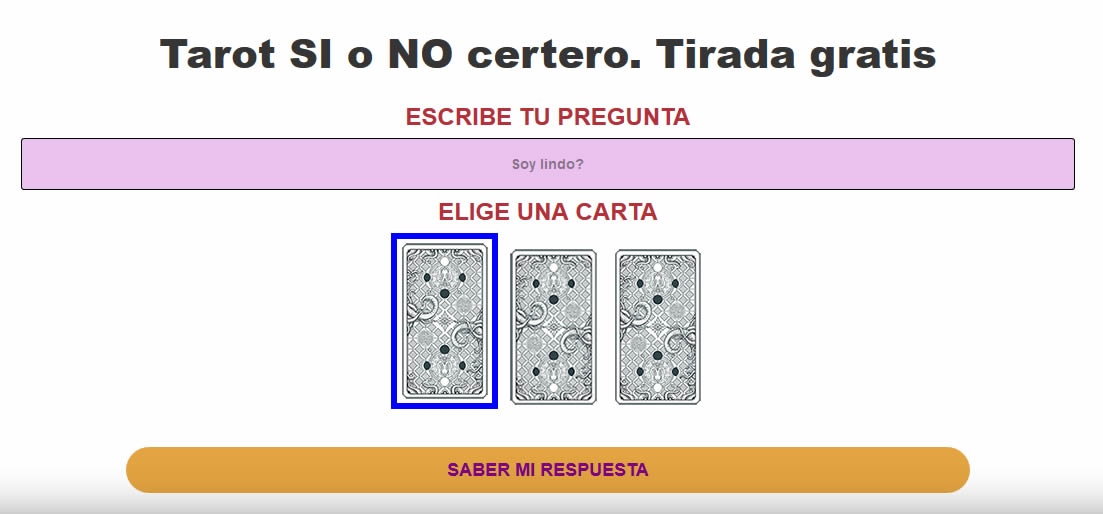 Apparently, the clairvoyance has not been relegated to the past but is updated according to the times in the 21st century.
The best thing about this alternative of card reading is undoubtedly impersonality and comfort for customers who need to make an inquiry and who do not want to go to a tarotist in person. Being interactive they can do it without having to go to an appointment with the seer.
But, let's really see how this amazing tool works. One of the most used runs in the virtual Tarot sessions is that of YES or NO. It is a convenient way to interact with a programmed system that has been created especially for this type of mancia. Only one question is required and according to the card the user chooses from the Tarot deck, he will get his answer.
Many of the questions asked are related to choices or determinations that the person needs to make. For example: Will I get a job in the short term? – Should I finish this cooking course that I have postponed? If I try harder in my work, will I get an increase in my financial compensation? o Does my wife or husband really love me? – Having said any of these questions, choose a random card from the tarot deck and the system will perform the magic after comparing the chosen card with the question entered into the system. In this way whoever consults will get their desired response.
There may be variants of the same system, for example, the question may not have to be written in the system but simply think about the concentrated question. In any case, the legitimacy of the response should not vary, since it simply responds to technological differences between one program or another. The answers: Yes or No, they are linked to the Tarot and not to the System which makes this technique really reliable to consult.
Seers and clairvoyance have existed since the beginning of human existence. Throughout history, different techniques have been developed that use different tools to fulfill their essential purpose, which is to guess aspects of people in relation to their past, present and future. Many current seers use modern virtual prediction techniques such as interactive Tarot. Reliability will depend on the honesty of the tarotista that is why we want to recommend the following site: 10videntes.com because in this place you will find reliable seers.