Are you one of those who like a wide screen? Of those who like the last shout in design? I also have that roll, but you have to take into account the economic section. Not all pockets are able to go for the latest Samsung, iPhone or Huawei. Sometimes, there are limits that should not be passed so as not to see the water around your neck. Huawei is aware of this and, despite having devices above 900 Euros, it also has more affordable ranges. Here comes the Huawei P Smart Z. A phone with a spectacular design that has left me hallucinating.
Technical specifications
This Huawei P Smart Z is a phone that if we only look at the specifications, we will see a mid-range phone. Yes, it has a wide screen and, yes, it has a double camera with Artificial Intelligence. However, in its guts is the ultra-exploited HiSilicon Kirin 710, a processor that has been used in other mid-range devices such as the Huawei P30 Lite or Huawei Mate 20 Lite. This does not mean that it is a bad processor, but it is a CPU that is limited in performance.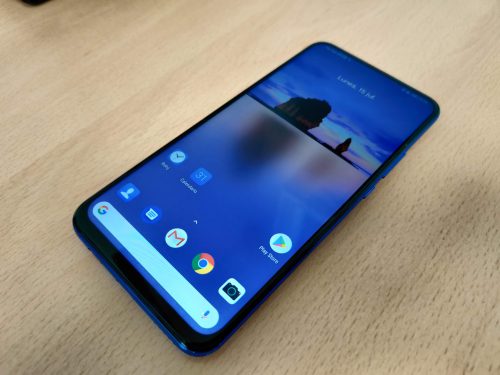 As for the memories, we are faced with 4GB of RAM that, together with 64GB of internal storage, make this a phone with more than enough benefits for those who do not need the latest in performance.
All this is powered by a generous battery, as Huawei has used, 4000mAh. Something that, by the way, we are seeing that this year is becoming a standard in many manufacturers.
As for connectivity, it comes with everything, that is, it has NFC, RadioFM, 4G, Bluetooth 4.2, GPS, etc … Whoever gets one of these, it will not be missing anything.
Physical appearance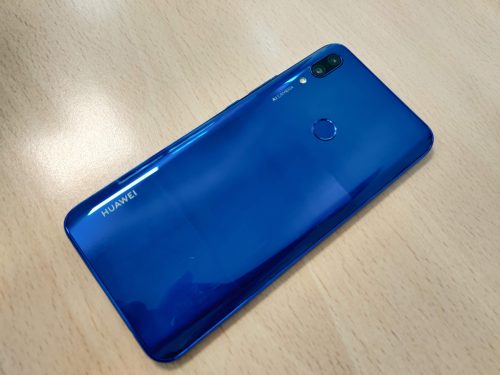 This Huawei P Smart Z is a device of generous dimensions of 163.5mm high, 77.3mm wide and 8.8mm thick that house a 6.59-inch screen.
The screen occupies almost the entire front, although it should be noted that although it comes to touch the top, it leaves a space below. It is assumed that this space is dedicated for users to perform gestures in a more comfortable way. Well, the reasons will be different.
In the case of the loan unit, I had to analyze the blue one. It is a very beautiful color that is fashionable in more than one device and that makes some visual effect that makes it more attractive if possible.
Photographic section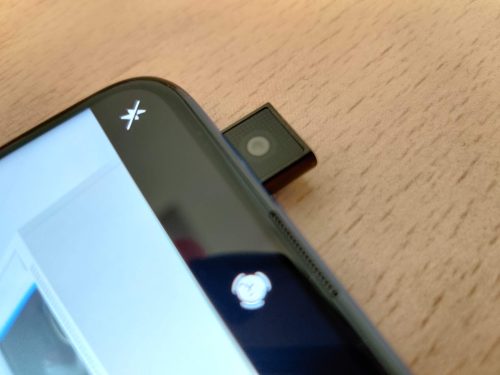 Here is the mother of the lamb on this phone. The front camera is not integrated into the device's own body, but is a "pop up" camera that appears and disappears according to our need. The front camera has 16MPx. It must be said that this mechanism is not the fastest of all I have tried, but it is effective for us to enjoy a screen that occupies almost the entire front. As a security system, if the mobile notices a free fall, the camera hides to avoid unwanted damage.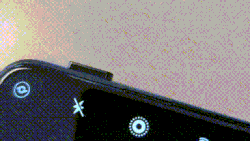 The Huawei P Smart Z does not stand out especially as far as photography is concerned. Let's see, I explain myself. This phone does not come to mind when asked to see what mobile phone you can buy one that has an amazing camera. That does not happen because there are already other alternatives to this that, on top, are more expensive. Even so, I must say that it has left me with a great taste in my mouth. A phone whose cameras have more than acceptable performance.
The dual rear camera comes with a 16MPx sensor and a 2MPx sensor. The addition of AI makes it more striking, although it must be said that depending on what occasion, this AI (as in other devices) make the photo is not real as far as color is concerned. In photos of the day, as in many devices, it performs very well, what is expected at this stage of life. In somewhat worse conditions of light, the thing changes, especially with the AI ​​on, which "invents" colors. In my case, I had to turn off that extra to take a picture at ease.
Here, as with everything in life, it depends a lot on the tastes of each person. There are people who like ultra saturated colors. On the other hand, I do like them saturated but without inventing a new scene.
performance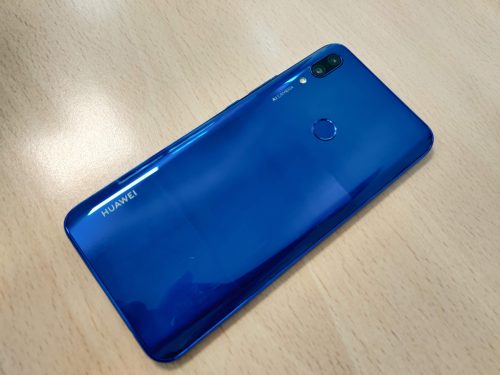 I have said before that it comes with the Kirin 710, a processor that, perhaps, is not the best exponent in terms of performance. And it is that in my particular use, I must emphasize that every day I play Dragon Ball Dokkan Battle and Legends, F1 Manager and sometimes Fortnite / PUBG. In this case, I must say that in almost all of them I have noticed pulls (the Fortnite cannot even use it, it is not compatible), but it can be played quietly. Today there are few devices that do not run the games that currently exist.
Summary
| | |
| --- | --- |
| Dimensions | 163.5 x 77.3 x 8.8 mm |
| screen | LTPS 6.59 inches FHD + (1080 × 2340 pixels) |
| Processor | HiSilicon Kirin 710 at 2.2GHz |
| GPU | Mali G51 MP4 |
| RAM | 4GB |
| Internal storage | 64GB with Micro SD slot |
| Cameras | 16 + 2MPx rear and 16MPx front |
| Connectivity | 4G, NFC, Bluetooth 4.2, FM Radio, GPS … |
| SW | Android 9 Pie |
| Drums | 4000mAh |
Personal opinion
For the price it has and the great design, it is a highly recommended phone. It is a very resulton phone and, in addition, it will make the people around us flirt with something on the phone to move.
Related