The exposure of technologies among children remains a sensitive issue and one of constant debate among parents. The limitation of hours of exposure on digital platforms is one of the most common decisions that parents choose among others. And if we take a look at the benefits that the digital era offers us, will we continue to limit or select the best web content options for kids?
Millenials and Generation Z
It's a reality, most of us have children, nephews or grandchildren who are millennials, and others are already part of the Z generation – which indicates that they have either started in digitalization or are massively exposed to the Internet. So, where do we group those born from 2010? The clear thing is that both a generation or another, have been born in the era of Internet and mobile applications and we can not deny it, but adapt in the best way to them.
Pain and Gain
Based on the fact that a prolonged exposure time to devices can have negative effects such as visual fatigue, possible limitation of the development of their creativity and even the ability to interact with people. So let's make these possible effects a fortress and let's get on your side to see the advantages that technology has, which are a few – So let's start!
Basically, we have the support of the same American Academy of Pediatricians that proposes a series of tips for families and their use on children and how to apply them.
With this support and the recommendations of the experts, we begin to look more positively at the use of apps – always making moderate and complementary use to traditional or offline resources.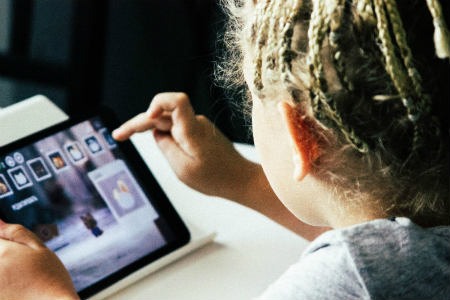 Without going any further, YouTube is one of the digital platforms par excellence and a reference for all when looking for songs, tutorials and entertainment content.
Yes, through YouTube we can not only listen to music or videos of laughter, but you can also learn. Dance classes, language learning, meditation and even streaming what happens out there!
When it comes to learning, the offer of educational channels is exorbitant. The Kingdom to Play, JTjuguetes and Happy Learning Spanish without some examples that offer quality children's visual content and providers of educational subjects in an entertaining, interesting and fun way for the little ones, combining the traditional in a new support and more striking for them .
Nowadays the possibility of seeing content in different languages, not only helps to entertain and have fun but to understand and learn a new language in an intuitive and playful way!
In addition, on many occasions we tend to think that the child when facing the screen is being negatively influenced, but on the contrary, many of the channels the main objective they have with all their videos is to encourage all kinds of values ​​in children, such as collaborate at home, help each other, etc.
For all this, it is interesting that we stop to think about the benefits and the complementary component that technologies have for our children, and remove that negative and harmful connotation since, as everything should be made a moderate and controlled use – Here comes the important role of adults!
conclusion
Therefore, as long as there is a balance between traditional and digital educational techniques, a moderate control of exposure time and the appropriate choice of content, technologies can become our best ally – Say yes to change and, let's leave adapt to the educational method of today and of the future!