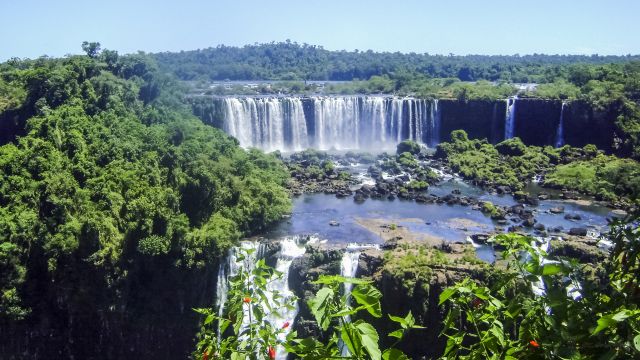 Brazil keeps many secrets and paradisiacal places that not many people know, but that does not take away the majesty of the place. The special thing about this type of places is that they are outside the crowded places and popular cities for tourists, making them a perfect destination to rest as it is Foz do Iguacu. Access to this place is not well known and Latam Airlines is one of the airlines that offers you a round flight to get to the place.
Foz do Iguacu is a town in Brazil located right on the border with Argentina and Paraguay, this hot destination houses several attractions that can be visited during a comfortable holiday. This is one of the most important multicultural cities in the Carioca country because it takes people from hundreds of different places like Italy, Germany, Japan, among others, so you will surely find gastronomy and crafts from other places in the world.
The main attraction of Foz do Iguacu is the waterfalls of the same name, located on the border of Argentina and Brazil. This natural sanctuary is part of the Iguazu National Park and it has more than 270 different jumps, being the one of 80 meters the highest of the place. Within the park you can make excursions for hiking and appreciate the falls from different points or take a boat that takes you to know the lower part of the waterfalls.
In addition to the falls, Another popular destination is the Triple Frontier, a place where the Iguazú and Paraná rivers connect and communicate the borders of Argentina, Paraguay and Brazil. Inside the destination there is an area called Milestone of Three Borders where there is a union of the 3 countries and each end of each nation has a monolith on the shore with the colors of their respective flag.
Foz do Iguacu is an ideal destination if you are a fan of nature, because the place is surrounded by flora and fauna typical of the place. Walking through its waterfalls, enjoying the cuisine of the area or walking through its territorial extension make it one of the perfect places to rest.